Oral Surgery.
Perfecting smiles require personalized and thorough care!
Lets Go
At Dent'oral Studio, we specialize in oral surgery procedures, providing our patients with the highest level of expertise, advanced technology, and stringent hygiene precautions. Our skilled oral surgeons are dedicated to delivering exceptional care, ensuring your comfort and safety throughout your surgical journey.
Expertise in Oral Surgery
Our team of experienced oral surgeons possesses extensive training and expertise in performing a wide range of oral surgery procedures. Whether you require a simple tooth extraction, wisdom teeth removal, dental implant placement, or corrective jaw surgery, we have the knowledge and skills to provide precise and successful outcomes.
Call Now!
Utilizing Latest Technology
We are committed to staying at the forefront of dental technology, and our oral surgery department is equipped with state-of-the-art equipment to enhance the accuracy, efficiency, and safety of our procedures. From 3D imaging and digital X-rays to laser technology and minimally invasive techniques, we leverage these advancements to ensure optimal results and a comfortable experience for our patients.
Call Now!
Hygiene Precautions
Your health and safety are our top priorities. We adhere to the strictest hygiene protocols to maintain a clean and sterile environment throughout our oral surgery procedures. We utilize advanced sterilization techniques, disposable surgical instruments, and single-use materials to prevent cross-contamination and minimize the risk of infection. Our surgeons and staff follow rigorous hand hygiene practices, wear appropriate personal protective equipment (PPE), and maintain a clean and organized surgical suite. By implementing these hygienic precautions, we provide you with peace of mind, knowing that your oral surgery is conducted in a safe and sterile environment.
Call Now!
Patient Comfort and Care
We understand that oral surgery can be a source of anxiety for some patients. That's why we prioritize your comfort and well-being throughout the entire process. Our team takes the time to thoroughly explain the procedure, answer your questions, and address any concerns you may have. We employ gentle techniques and offer various sedation options to ensure a relaxed and pain-free experience.
Call Now!
Post-operative Care
Following your oral surgery, our commitment to your care continues. We provide detailed post-operative instructions and guidelines to promote optimal healing and recovery. Our team is readily available to address any post-surgical concerns or questions you may have, ensuring your comfort and a smooth recovery process.
Call Now!
Our Process
Our dentist will examine your teeth, gums, jaw joints, and surrounding tissues as part of a full examination. They'll also use dental X-rays and scans to gain a clear picture of your tooth roots, jawbone, nerves, and other key oral landmarks. They'll create a tailored treatment plan based on this information.
Consulting
Your first consultation with us will be a personal conversation. We'll examine your situation. Then we'll discuss your diagnosis, treatment options, and potential anesthesia types. Please provide as complete information as possible. An important step in the treatment planning process is to address any pre-existing medical conditions that could present challenges during the surgery or post-operative healing process.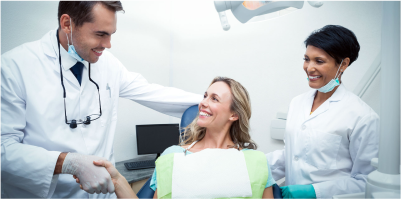 Choose
Our Oral dentist or surgeon may advise you to get your wisdom teeth removed before they cause any problems. However, wisdom teeth aren't the only ones that might become impacted and require extraction. Other teeth, such as the cuspids and bicuspids, can also become impacted and create issues.
Procedure of Oral Surgery
The length of your procedure will be determined by a number of factors, including the type of Oral Surgery Services in Lahore you're having, the number of teeth being treated, and whether you choose anesthesia. Meet Professional Dentists at Dentoral Studio, we do tooth extraction with much care which roughly takes 30 minutes, but a more extensive treatment, such as corrective jaw surgery, might take up to three hours.
Beauty Smile
We are trained to give our patients the Best Oral Surgery Services. We carry out all surgical procedures painlessly. We offer our patients the extraction and placement of dental implants simultaneously without pain or discomfort. We also offer extractions under sedation for fearful patients. Get the Oral Surgery Near me services in Lahore at Dentoral Studio. You can also find us on Social Media.
When you choose Dentoral Studio for your oral surgery needs, you can be confident in receiving exceptional care from skilled oral surgeons, supported by the latest technology and strict hygiene precautions. Schedule a consultation today and experience the difference our expertise and commitment to your well-being can make in your oral surgery journey.