General Dentistry.
Your primary Dental care provider!
Lets Go
At Dent'oral Studio, we are proud to offer a wide range of general dentistry services to help you achieve and maintain optimal oral health. Our experienced team of dentists and hygienists is dedicated to providing exceptional care for patients of all ages. From routine check-ups to preventive treatments and restorative procedures, we are here to meet all your general dentistry needs.
GENERAL DENTISTRY
General dentistry includes a wide range of services to regularly keep your mouth clean and healthy. Regularly scheduled visits to a General Dentist Near me can help improve your oral and physical health.
Call Now!
Comprehensive Dental Examinations
Regular dental check-ups are the foundation of preventive dental care. Our comprehensive examinations include a thorough assessment of your oral health, including teeth, gums, jaw, and bite. We utilize advanced diagnostic tools and technologies to detect any dental issues at an early stage, allowing for prompt and effective treatment.
Professional Dental Cleanings
Professional dental cleanings are essential for maintaining healthy teeth and gums. Our skilled dental hygienists will gently and meticulously clean your teeth, removing plaque, tartar, and surface stains. This helps prevent cavities, gum disease, and bad breath, leaving your smile feeling fresh and rejuvenated.
Digital X-Rays and Imaging
We utilize state-of-the-art digital X-rays and imaging technology to obtain clear and detailed images of your teeth and underlying structures. These digital images provide valuable diagnostic information, enabling us to detect dental problems that may not be visible to the naked eye. Digital radiography also reduces your exposure to radiation compared to traditional X-rays.
Preventive Dentistry
Prevention is key to maintaining a healthy smile. Our preventive dentistry services are designed to protect your teeth and gums from common dental issues. This includes dental sealants, fluoride treatments, oral cancer screenings, and personalized oral hygiene education. We work closely with you to develop a customized preventive plan tailored to your unique needs
Tooth-Colored Fillings
If you have a cavity or require a minor tooth restoration, we use tooth colored fillings made of durable and natural-looking composite resin. These fillings blend seamlessly with your natural tooth color, providing an aesthetically pleasing and long-lasting solution.
Root Canal Therapy
When the inner pulp of a tooth becomes infected or damaged, root canal therapy can save your tooth from extraction. Our experienced dentists perform this procedure with precision, removing the infected pulp, disinfecting the root canal, and sealing it to restore the health and function of your tooth.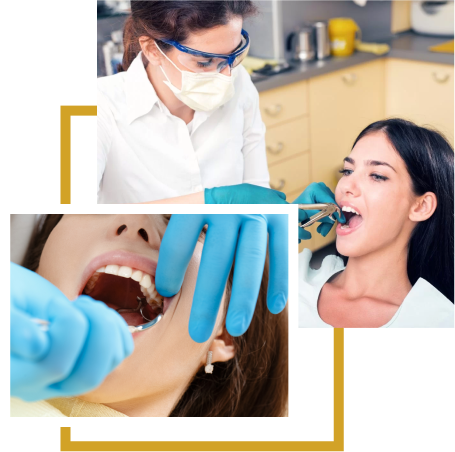 Extractions
In cases where a tooth cannot be saved or is causing overcrowding or other issues, our dentists perform safe and gentle extractions. We prioritize your comfort and offer options such as local anesthesia or sedation to ensure a painless and stress-free experience.
Emergency Dental Care
Dental emergencies can happen at any time, causing pain and inconvenience. We offer prompt emergency dental care to address issues such as severe toothaches, dental trauma, knocked-out teeth, or broken restorations. Our team will provide immediate relief and develop a treatment plan to restore your dental health.
At Dent'oral Studio, our commitment to general dentistry goes beyond providing exceptional treatments. We strive to build trusting relationships with our patients, ensuring your comfort, satisfaction, and long-term oral health. Trust us to be your partner in achieving a healthy, beautiful smile.
Schedule an appointment today and experience our comprehensive general dentistry services firsthand. Let us take care of your dental needs and guide you on your journey to optimal oral health. 
Book Appointment Now